Coal Harbour Neighbourhood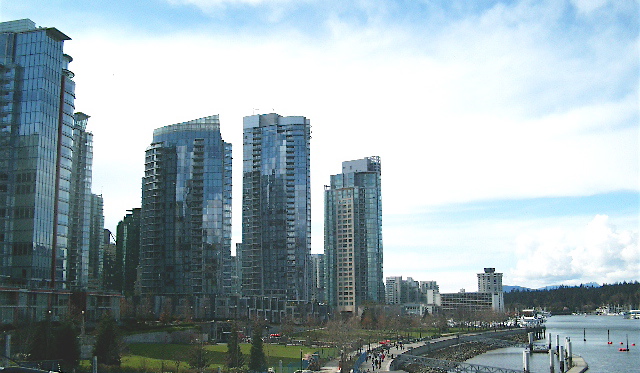 from left to right: One Harbour Green 1169 West Cordova St., Ceilo 1205 West Hasting St., Carina 1233 West Cordova St., Callisto 1281 West Cordova St., Escala 323 Jervis St. Harbour Green Park in the foreground

Coal Harbour is one of Vancouver's newest and most exclusive downtown, high-rise neighbourhoods. Vancouver has limited land to accommodate sprawling displays of affluence. Many Vancouverites instead make home in the skies and compete over views from their luxurious apartments, and their proximity to the water and to leisure activities—within and near to their homes. Coal Harbour has modern, interesting architecture, luxurious buildings along its waterfront, and is located central to the best of urban living on Vancouver's downtown peninsula. High-quality construction along with the unrivalled views of the North Shore mountains, of the working harbour, of leisure craft coming and going from the Coal Harbour Marina and of Stanley Park are what make Coal Harbour waterfront apartments some of the most exclusive and expensive real estate in the country.
At the foot of Burrard Street in Coal Harbour, is the LMS -designed Convention Centre, with its grass roof and LEED status. It is surrounded by some of the city's finest hotels and a myriad number of transportation options from the Sky Train, to The Sea Bus, to float planes, foot-passenger ferries, and a nearby heliport. Walk west from Canada Place along the Coal Harbour seawall for approximately a quarter of a kilometer and into the serenity and natural beauty of the nearly 1000 acres of Stanley Park. Your harbourside walk will take you past the luxurious waterfront high rise residences of Coal Harbour—The Fairmont Estates, Shaw Tower, Harbour Green Phases One to Three, Carina, Callisto, Escala, Denia and Cascina at Waterfront Place, Bauhinia, Avila, 1717 Bayshore Drive and 1777 Bayshore Drive—THE fourteen waterfront residential properties of Coal Harbour, buttressed by a respectful piece of modern architecture on the east and the precious sanctuary of Stanley Park on the west.
Coal Harbour is truly one of the most interesting districts in Vancouver for the way it represents an intersection of PEOPLE from around the globe who have made roots here, PURPOSES as the neighbourhood is at the crossroads of commerce and leisure, and PLANNING, for the way the development of Coal Harbour from rail yard to enclave has proven an esthetically beautiful and dynamic signature for Vancouver developers and planners and a showcase for what urban renewal can be.
Copyright all rights reserved Christine Saulnier 2009.